My Blog
Posts for: August, 2012
By Dr. Patrick H. Collins
August 30, 2012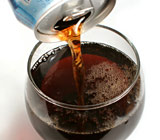 If you like soft drinks and carbonated colas, beware. Acids in these drinks may be dissolving the minerals in your teeth — a process called chemical erosion. And don't think that natural fruit juices or sports and high energy drinks are any better than sodas. They also contain acids that dissolve the surface enamel of your teeth. Once your enamel is lost, it is gone forever. It cannot naturally recover.
Sadly, teeth in children and teenagers — an age group most likely to drink large quantities of soda and juices — may be more easily eroded by acids. These youngsters have not had long-term exposure to fluorides which harden tooth enamel and protects them from acid erosion.
The Difference between Erosion and Decay
Chemical erosion is not the same as tooth decay (cavities). In chemical erosion, acids in your mouth react directly with minerals in the outer enamel of your teeth. In the case of tooth decay, bacteria in dental plaque (a bacterial film that forms on your teeth) utilize the sugars in the drinks and produce acids that attack your teeth.
After Acidic Exposure, Wait 30 Minutes to an Hour before Brushing
You may think that the solution to chemical erosion is to brush the acidic solution from your teeth as soon after drinking them as possible. But tooth brushing immediately after can actually accelerate chemical erosion and make it worse. After they are bathed in an acidic solution, minerals in the tooth surface become partially dissolved. Brushing at this time may brush away the affected layer. If you wait a half hour to an hour, your saliva will have time to neutralize the acids and harden the tooth surface by adding minerals back into it.
Drinks Less Likely to Cause Dental Erosion
Instead of drinking colas and sports drinks, stick to water and/or milk, which have the added benefit of supplying calcium to help add minerals back to the tooth surface.
If you must sip on juices or soft drinks, try to do so only at mealtimes. This is preferable to drinking them all day long, which leaves your teeth constantly bathed in an acid solution. Avoid swishing the drinks in your mouth, and sip them with a straw to reduce contact between acidic drinks and your teeth.
Contact us today to schedule an appointment to discuss your questions about acid erosion of teeth. You can also learn more by reading the Dear Doctor magazine article "Dental Erosion."
By Dr. Patrick H. Collins
August 23, 2012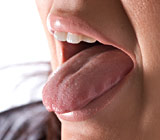 Considering that over 90 million Americans suffer from chronic bad breath and everyone else has dealt with some form of it at one time or another, we want to address some common causes and cures so you are prepared if it happens to you.
What are the most common causes of bad breath?
Halitosis or bad breath most often occurs when you have poor oral hygiene and/or routinely consume odorous foods and drinks. In fact, 90% percent of mouth odors come from the food you eat or bacteria that's already there, according to the American Dental Association. Other causes for halitosis include:
Excessive bacterial growth in the mouth and especially on the tongue
Known and characteristically odor producing foods and drinks such as onions, garlic, coffee, tobacco and alcohol products
Diabetes and diseases of the liver and kidneys
A poorly hydrated body (and mouth) from not drinking enough water everyday
What should I do if I feel (or people tell me) I have chronic bad breath?
Contact us to schedule an appointment for a proper diagnosis and plan of action for returning your mouth to optimal health.
What are some tips I can do to prevent occasional bad breath?
In most cases, bad breath is totally preventable when you follow the tips below:
Brush your teeth in the morning and at bedtime using a fluoride toothpaste and a proper (and gentle) brushing technique.
Floss your teeth at least once a day.
Clean your tongue after brushing your teeth with either a scraping tool you can purchase at a drug or discount store or by gently brushing it with your toothbrush.
Keep your mouth moist by drinking plenty of water during the day.
Be prepared by having some mouth cleaning tools (floss, a toothbrush, toothpaste or some sugar free gum) handy to freshen your mouth after consuming bad smelling foods, drinks or using tobacco or alcohol.
Eat fresh fruits and vegetables to increase saliva production in your mouth and help remove food particles that can lodge between teeth.
Maintain regular dental check-ups.
Want to learn more?
Contact us today to discuss your questions or to schedule an appointment. You can also learn more about halitosis by reading the Dear Doctor article, "Bad Breath — More than Just Embarrassing."