My Blog
Posts for: June, 2013
By Dr. Patrick H. Collins
June 26, 2013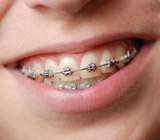 A beautiful smile has been proven to enhance your confidence and self-esteem. However, not everyone was born with the perfect smile. If you have an overbite, crowding of the teeth, too much space in between your teeth or missing teeth, then you may be a candidate for orthodontic treatment. With orthodontic treatments, teeth are moved into proper alignment by placing continuous, gentle forces in a carefully controlled direction with an orthodontic appliance.
Here are a few things you should know about malocclusions (bad bites) and orthodontics:
Causes. In many cases, bad bites are simply inherited. Malocclusions can also be caused by skeletal growth problems, and in these cases, early intervention with orthodontics can make a big difference. Acquired bite problems can be caused by trauma, thumb sucking and any premature loss of teeth.
Options. Nowadays, there are many different options available for those that require orthodontic treatment. In addition to traditional braces, which are applied to the front of the teeth, there are now braces that can be attached to the back of your teeth. Another popular option is clear orthodontic aligners, an alternative system to traditional braces that use a sequence of clear, removable and custom-fitted trays to gradually straighten your teeth.
Age. The American Association of Orthodontists recommends that children should be evaluated for orthodontic problems no later than age seven, as early detection and action helps to avoid more difficult treatment later in life. One out of every five orthodontic patients today is an adult, so remember that it is never too late.
Time. While treatment time will vary, you can expect it to range from one to three years, depending on the severity of the problem. However minor tooth movement may take as little as six months.
Maintenance. Remember that once your treatment has concluded, the work is not done. We will often recommend that you wear a retainer for a prescribed period of time to maintain your new, straight smile.
If you would like more information about orthodontics, please contact us or schedule an appointment for a consultation. You can also learn more by reading the Dear Doctor magazine article "The Magic of Orthodontics."
By Dr. Patrick H. Collins
June 13, 2013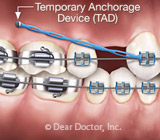 Technology for orthodontic treatments has evolved tremendously over the years. There are now more options than ever before for those seeking to straighten their teeth or fix bite issues. One of those revolutionary options is TADS (Temporary Anchorage Devices), mini-screws that can be used to more accurately control the movement and positioning of your teeth.
So, how do TADS work? Well, these very small screws are temporarily placed into the bone of the jaws to be used as non-mobile anchor units to facilitate tooth movement. They can be removed once the desired movement is complete. In addition, they can be placed using simple local anesthesia (numbing shots in the area).
The procedure is actually quite simple. After numbing the area where the TAD is to be placed, we will use gentle pressure to insert it through the gums and into the bone of your jaws. You may feel some slight pressure during the insertion, but no pain. Following the procedure, you may also feel a bit of pressure and sensitivity for one to two days, but many people experience no side effects at all. As the name suggests, TADS are temporary and usually removed after a few months, though length of time varies. Again, removing TADS also involves a quick and painless procedure.
TADS have been around for a long time, but recent refinements in the design and application procedure have allowed for more widespread use in the orthodontic office. TADS can be used for many different reasons, including eliminating the need for cumbersome appliances, such as headgear. They also offer a great way to reduce orthodontic treatment time. Finally, they allow certain cases to be treated that were nearly impossible before this technique was refined.
If you would like more information about TADs, please contact us or schedule an appointment for a consultation. You can also learn more by reading the Dear Doctor magazine article "What are TADs?"