My Blog
Posts for: October, 2013
By Patrick H. Collins, PC
October 16, 2013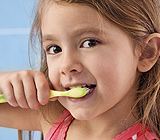 In the early 1900s, a Colorado dentist noticed many of his patients had unusual brown staining on their teeth — and little to no tooth decay. What he unknowingly observed was the power of a chemical substance in his patients' drinking water — fluoride. While commonplace today, fluoride sparked a revolution — and some controversy — in dental care during the 20th Century.
After decades of research and testing, most dentists now agree that fluoride reduces decay by interfering with the disease process. The optimum pH level for the mouth is neutral; however, this environment constantly changes as we eat, especially if we ingest foods or beverages high in acidity. A high acid level softens tooth enamel (a process called de-mineralization) and can lead to erosion if not neutralized. In addition, a thin layer of bacteria-rich plaque called biofilm that adheres to tooth surfaces is also acidic and is the cause of tooth decay, possibly more so in teeth made more susceptible from enamel erosion.
When fluoride is in "the right place" (present on the tooth surface and in our saliva, the body's natural acid neutralizer), it helps inhibit de-mineralization and aids in the re-hardening of the enamel (re-mineralization).
Although fluoride needs to come into direct contact with tooth enamel for optimum effectiveness, ingesting it can also prove beneficial. The fluoride we ingest eventually becomes deposited in bone. As bone grows and changes it releases this reserved fluoride back into the bloodstream where it eventually becomes part of saliva; the saliva brings it into contact with tooth surfaces.
The two most prominent ways we encounter fluoride are through fluoridated drinking water and in toothpaste. There continues to be concerns about what constitutes safe levels of fluoride in drinking water and over possible side effects like teeth staining and changes in bone structure. However, extensive studies have conclusively shown that even minimal levels of water fluoridation and the use of fluoride toothpaste have reduced tooth decay.
As the Colorado dentist discovered over a hundred years ago, fluoride is truly remarkable as a cavity fighter. Whether you have access to fluoridated water or not, we encourage you to use fluoride toothpaste to strengthen your teeth against decay.
If you would like more information on fluoride, please contact us or schedule an appointment for a consultation. You can also learn more about this topic by reading the Dear Doctor magazine article "Fluoride & Fluoridation in Dentistry."
By Dr. Patrick H. Collins
October 01, 2013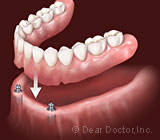 For well over a century, removable dentures have been the main treatment option for patients suffering from severe or total edentulism (loss of teeth). In recent years, however, the dental implant has been recognized as the best option because it can provide patients with permanent tooth replacement, and even more so as implant technology continues to advance.
But while permanent tooth replacement using implants offer more comfort and a better fit than dentures, they are more expensive, sometimes out of the financial reach of many patients. There is, however, one alternative for the lower jaw that blends the two options for tooth replacement into one. This alternative is known as an implant overdenture.
The implant overdenture begins just as a fixed dental implant would: we surgically implant two titanium posts into the lower jaw and allow them to fuse with the bone over time (thanks to the unique way that bone interacts with titanium). But rather than next affixing a porcelain crown to the post as we would with a dental implant, we would instead fashion a denture that fits over the two posts (hence the term overdenture). The overdenture has receiver sites that connect securely with the titanium posts to hold the overdenture in place. This ensures a snug fit with no slippage — resulting in better ability for the wearer to chew food and speak — and without the continuous need for dental adhesive. And just as with traditional dentures, you can remove the overdenture for cleaning.
It might also be an optimal solution for patients with severe issues involving bone loss or compromised teeth that make it difficult for them to support either a fixed prosthesis or a traditional removable denture.
This option does have some drawbacks: since it's still a removable denture, it can still move during meals and food can sometimes get underneath it, which can be annoying. Also, overdentures for the upper jaw require more than two implants because the upper bone is less dense; thus because of a greater number of implants, an upper overdenture is more costly than a lower one.
In the end, an implant overdenture to the lower jaw might be an optimal solution for you — financially and practically — to restore function from severe or total edentulism.
If you would like more information on implant overdentures, please contact us or schedule an appointment for a consultation. You can also learn more about this topic by reading the Dear Doctor magazine article "Implant Overdentures for the Lower Jaw."