My Blog
Posts for: December, 2013
By Patrick H. Collins, PC
December 24, 2013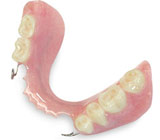 Removable partial dentures (RPDs) are a common replacement option for multiple lost teeth. However, they're not the best long-term option; in fact, one particular type of RPD could be a poor choice if you wish to wear them long-term.
Made primarily of plastic, these RPDs are sometimes referred to as "flippers" because of how the tongue can easily flip them out of the mouth. While some people see them as a permanent replacement for their lost teeth, in reality plastic-based RPDs are a transitional replacement — a stepping stone, if you will, to a permanent solution. They are most useful during healing following a periodontal procedure or during the waiting period after implant surgery.
However, they can pose problems to your long-term oral health if worn permanently. Because of the manner in which they fit to the gums and any remaining teeth, they tend to settle into and compress the gum tissues. If you have gum disease, they force infection deeper into the tissues. They also allow and promote bacterial plaque growth. This in turn may lead to increased incidences of decay and gum disease.
On the other hand, a metal RPD, ideally made of cast vitallium or gold alloy, fits more snugly and accurately in the mouth. They still can cause increased plaque and food retention, but if the wearer also adheres to sound daily oral hygiene practices, regular dental checkups and diligent care of the RPD, they can be used successfully for many years.
Although a metal RPD costs more than its plastic counterpart, they cost less than more permanent teeth replacements. They are lighter in weight than plastic RPDs and fit more securely to deflect the forces generated by biting.
In considering your options for replacing lost teeth, you should not view plastic transitional RPDs as a permanent solution, but rather as a temporary one until you can obtain a more permanent solution. And although not the most optimal choice, the metal RPD could be considered a more permanent cost-effective solution.
If you would like more information on your options regarding removable partial dentures, please contact us or schedule an appointment for a consultation. You can also learn more about this topic by reading the Dear Doctor magazine article "Removable Partial Dentures."
By Patrick H. Collins, PC
December 10, 2013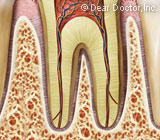 Without a doubt, an effective root canal treatment can extend the life of a tooth for many years. But sometimes even a well-maintained tooth can fall prey to disease months or even years after a root canal treatment. While there are a number of reasons to account for this failure, a common one is so tiny it could have easily been missed during the first treatment.
A root canal is an open space within the tooth that contains the pulp. The pulp is a connective tissue with a network of nerve fibers connected to the root that alert the brain to environmental changes involving the tooth. It is most important during the tooth's early development, but becomes less important as we age. The pulp is susceptible to infection from tooth decay or periodontal (gum) disease, which if left untreated can threaten the tooth's survival. During a root canal treatment, we enter these spaces, clear out the diseased pulp and fill the canal with a bio-compatible filling; we then seal it off to deter further decay.
The treatment could ultimately fail, though, because of accessory or lateral canals missed during the procedure. Like a tree with smaller branches growing out of its larger limbs, accessory canals are smaller access ways that branch off of the main root canals. These accessory canals, which can occur anywhere along a main canal, can be quite small and not easily detected during an initial root canal treatment. They are especially susceptible to infection due to gum disease if they open into the periodontal membrane, the main attachment point between teeth and bone.
If we suspect the presence of accessory canals (either initially or after ensuing problems following a root canal treatment), this could require the skills of an endodontist, a dentist who specializes in the treatment of a tooth's interior. Accessory canals are treated in much the same way as larger canals, but may require an endodontist's specialized microscopic equipment and filling techniques. Effective treatment of these smaller accessory canals will certainly improve the chances of a successful, long-term outcome for the tooth.
If you would like more information on root canal treatments, please contact us or schedule an appointment for a consultation. You can also learn more about this topic by reading the Dear Doctor magazine article "Accessory Canals."