My Blog
Posts for: January, 2014
By Patrick H. Collins, PC
January 23, 2014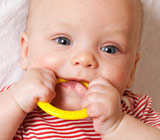 When your baby's first teeth erupt in the mouth, it's a big step in their development. Unfortunately, you may not have much opportunity to celebrate — you're too busy tending to your infant whose experience is anything but pleasant.
Commonly known as teething, the eruption process usually begins between six and nine months of age, although some children may begin as early as three months or as late as twelve. Not all teeth come in at the same time: it usually begins with the two lower front teeth, then the two upper front teeth, followed by the molars and then the canines (eye teeth). By age three, most children have all twenty of their primary teeth.
Each child's teething experience is different and may vary in length of time and intensity. The usual signs are heightened irritability, biting and gnawing accompanied by gum swelling, ear rubbing, drooling and sometimes facial rashes. Babies also may have disturbed sleeping patterns and a decreased appetite. Occasionally, this discomfort can be intense.
There are some things you can do to ease this discomfort. Provide your baby a clean, chilled (not frozen) rubber teething ring, chilled pacifier or wet washcloth to gnaw on. Cold foods, like popsicles for older children can also be soothing, though you should limit sugary foods to lower the risk of tooth decay. You can also finger massage swollen gums to counteract the pressure coming from the erupting tooth, or administer pain relievers like baby acetaminophen or ibuprofen. You can use products with Benzocaine®, a numbing agent, for children two years or older — but you should never use alcohol for children of any age for inflamed gums.
Be sure to also set up a Year One dental examination around their first birthday. This is an important first step in your child's long-term dental care, and a good opportunity to check their teething progress. And, by all means, if you have concerns about your child's experience with teething, don't hesitate to call our office.
Teething is a normal part of your child's development. There's much you can do to help make it as comfortable and pain-free as possible.
If you would like more information on teething, please contact us or schedule an appointment for a consultation. You can also learn more about this topic by reading the Dear Doctor magazine article "Teething Troubles."
By Patrick H. Collins, PC
January 08, 2014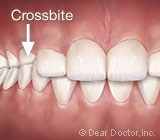 There's more to orthodontics than simply moving teeth. Especially with children and adolescents, we also want to guide the development of the entire facial structure to solve certain types of malocclusions (poor bites).
One such concern involves the upper jaw and palate (roof of the mouth), known collectively as the maxilla. In some individuals, the maxilla is narrower than normal. This causes the upper teeth to fit abnormally inside the lower teeth when occluding or "biting down" and is known as a cross-bite. A cross-bite may restrict the amount of space for your teeth to erupt (appear in the mouth) in proper alignment. It can be so severe the individual may have to shift the jaw to one side to completely bite down.
If a cross-bite is caught early, there's a non-surgical treatment to widen the maxilla and help prevent upper teeth misalignment. But there's a limited time window of opportunity: this is because the maxilla is actually formed by two bones with a seam that runs down the middle of the palate. The two bones will eventually fuse, usually at the beginning of puberty; until then there's a slight separation.
Before the bones fuse, we can use a palatal expander to widen this seam and encourage permanent bone growth in the resulting gap. The expander is made of two metal halves joined in the middle by a small screw device that fits between the teeth. You or your child turns the screw a very small amount once or twice a day with a special key and the action pushes the maxilla outward on either side: the slight tension created stimulates bone growth. Over time, the new bone will have added width to the maxilla and eliminated the cross-bite.
While it's possible to correct this after the maxilla fuses, it will require surgery to separate the bones. The palatal expander helps us correct the problem in the most non-invasive way possible, but it must be done before puberty. Discovering this type of malocclusion early is one of many reasons why regular dental visits should be an important part of your child's healthcare.
If you would like more information on palatal extenders, please contact us or schedule an appointment for a consultation. You can also learn more about this topic by reading the Dear Doctor magazine article "Palatal Expanders."