My Blog
Posts for: August, 2014
By Patrick H. Collins, PC
August 15, 2014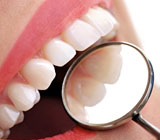 No matter how damaged or decayed your teeth may have become, there's a restorative solution for it. From porcelain veneers that cover unattractive teeth to dental implants that permanently replace missing teeth, we have the means to give you back a beautiful, life-like smile.
But what if the problems with your teeth are relatively mild — a chipped tooth or a cavity in a highly visible place? Porcelain veneers and bridgework involve extensive tooth preparation that permanently alters the tooth. Is there a less intrusive option that still results in a life-like restoration?
The answer is yes. Composite resins are tooth-colored materials that are bonded directly to tooth surfaces. Made of a plastic-based material matrix with inorganic glass-like filler, composite resins require very little tooth preparation and are often applied in a single visit.
They're an excellent way to address imperfections or defects with an otherwise healthy tooth, while still preserving the majority of its remaining structure. In the hands of a skilled dentist, composite resins can be used to fill, repair and reshape teeth. They're also an ideal choice for younger patients whose dental arches are still in development — restorations that require extensive tooth preparation might compromise the tooth's long-term health. A composite resin treatment could serve as a transitional bridge until a more extensive restoration can be performed after the patient's mouth structure has fully matured.
Composite resins do have some disadvantages. Because the resin material isn't as strong as the tooth structure it replaces (although there have been great improvements in the last few years in resin strength), it may not stand up to biting pressures over time if there isn't enough remaining tooth structure available to support it. They material can also dull and stain with use.
Still, for moderate imperfections or as an interim solution until another restoration can be undertaken, composite resins are a good choice.
If you would like more information on restorations with composite resin, please contact us or schedule an appointment for a consultation. You can also learn more about this topic by reading the Dear Doctor magazine article "Artistic Repair of Front Teeth with Composite Resin."
By Patrick H. Collins, PC
August 01, 2014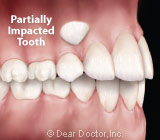 Your upper canine teeth are pretty easy to identify — they're usually longer and more pointed than other front teeth, and are normally positioned just under the eyes (hence their other name, eyeteeth). Besides helping us chew and bite our food, upper canines are part of a normal smile — when they don't appear in the mouth (erupt) properly, the person's smile may appear unnatural or "off."
Unfortunately, upper canines can become impacted, meaning the teeth have grown and developed in positions that prevent them from erupting. Because impacted teeth can develop abscesses and cysts, or damage the roots of neighboring teeth, it's necessary to treat them.
The first step is a thorough orthodontic evaluation to assess not only the teeth in question, but also how they could affect the position of other teeth in the future. Next, we must locate the exact position of the impacted canines through some form of radiographic examination, either x-rays or 3-D imaging using a cone beam CT scanner (CBCT). This evaluation will determine our treatment options for these teeth.
If the teeth are in a reasonable position, the best option is to expose the impacted tooth and prepare it for movement into proper position. To expose the tooth, a surgeon creates a small, surgical opening or flap in the gum tissue closest to the crown of the tooth. Once gaining access, the surgeon then bonds a small bracket to the crown and attaches a small gold chain to it. The chain can then be looped over orthodontic hardware attached to adjacent teeth, which will pull the impacted tooth over time into the proper position. Although this may sound complicated, coaxing the impacted canine in this manner into a proper eruption is actually quite routine and predictable.
If at all possible, saving impacted upper canine teeth should be the primary treatment goal — extracting them could have an adverse effect on biting and chewing, as well as disrupting your appearance. If they must be removed, however, tooth replacement such as dental implants can help restore any lost form or function.
If you would like more information on impacted teeth, please contact us or schedule an appointment for a consultation. You can also learn more about this topic by reading the Dear Doctor magazine article "Exposing Impacted Canines."