My Blog
Posts for: April, 2015
By Patrick H. Collins, PC
April 25, 2015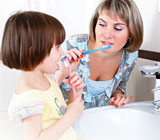 If you are the parent or caregiver of a special needs child or a child with a chronic disease, you face additional challenges when it comes to life's everyday routines. This includes establishing and maintaining good oral health so that your child is not at risk for other healthcare issues due to poor oral hygiene. For these reasons, our office has put together real-world advice that will make a difference in the life of your child.
The visit to our office that can make the biggest difference is your child's first one. However, be sure to contact us in advance of your child's appointment to let us know the details of your child's special needs or chronic disease state. This will give us the opportunity to contact your child's primary care physician or one of his/her specialists before starting treatment to obtain any medical information or special instructions. It will also enable us to be prepared so that we can pay special attention to these needs, as well as to make any necessary modifications to our office and/or equipment. Our primary focus is to work with you and your child's healthcare team towards the same goal. We all want your office visit to go smoothly and comfortably so that your child's first dental experience is a positive one.
Depending on the age of your child and his/her special needs, we most likely will start a gentle process of training and education. For example we will teach your child how to brush properly. It is important that you sit in and participate in this educational process so that you can reinforce this training at home. And little things count; before working with your child at home, you should set the stage so that it will be a comfortable setting with adequate light, fresh water for rinsing, and a mirror. You also need to have all of your supplies handy, such as a toothbrush, toothpaste, floss and rubber gloves (if needed).
To learn more tips, continue reading the Dear Doctor magazine article "How To Care for the Oral Health of Children with Disabilities and Special Needs." Or, you can contact us today to schedule an appointment or to discuss your questions about your child's special oral healthcare needs.
By Patrick H. Collins, PC
April 10, 2015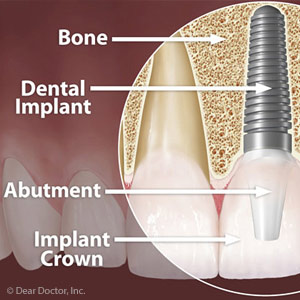 Dental implants are widely recognized as the best tooth replacement option available. For most people, though, it's a long process: after a tooth is extracted the socket is allowed to heal and fill in with new bone before implant surgery: that can take anywhere from two to five months. Afterward, there's usually a two– to three–month period after the implant is placed before the permanent crown (the visible tooth) can be attached.
Without adequate bone present the implant's long-term stability might be compromised. Furthermore, the implant's durability is dependent upon bone growth around and attaching to its titanium post after surgery in a process known as osseo-integration. These two considerations indeed serve a critical function in the implant's ultimate success.
In recent years, however, a variation to this traditional implant process has emerged that allows for immediate implantation right after extraction. Besides combining extraction and implantation into one surgical procedure, immediate implants minimize the disruption to a person's appearance (especially with visibly prominent front teeth) when combined with a provisional crown.
Immediate implants joined together that replace a full arch of teeth can receive biting forces and succeed. Individual implants that replace single teeth, however, won't work in all situations and must be undertaken with care to ensure long-term success. Because there may be less available bone, the implant must fit snugly within the socket to maintain as secure a hold as possible. The surgeon must also take care not to damage too much of the gum and bone tissue when extracting the tooth, which could affect both the integrity of the implant and its appearance in the gum line.
Temporary crowns may be attached during the implant surgery, but they're installed for appearance' sake only. For individual crowns, they must be designed not to make contact with the teeth on the opposing jaw to avoid generating biting forces that will cause the implant to fail and stop the bone-healing process that occurs with osseo–integration.
If you're considering dental implants, it's important to discuss with us which type of procedure, traditional or immediate, would be best for you, and only after a comprehensive examination of your mouth and jaw structure. Regardless of the approach, our goal is to provide you with a smile-transforming restoration that will last for many years to come.
If you would like more information on the dental implant process, please contact us or schedule an appointment for a consultation. You can also learn more about this topic by reading the Dear Doctor magazine article "Immediate Implants."