My Blog
Posts for: September, 2015
By Patrick H. Collins, PC
September 23, 2015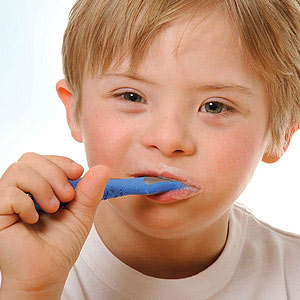 Children's ailments come and go, and thankfully most are relatively minor. Some children, however, have impaired health caused by a more serious, chronic disease. For them, the condition impacts not only their overall well-being, but also their dental health.
This often occurs because the specific healthcare needs of children with these chronic conditions are given greater priority over dental health. Besides the treatment focus, children with special healthcare needs may have physical, mental or behavioral limitations that can make it difficult to keep up with oral hygiene and care.
Children with autism or attention deficit and hyperactivity disorder (ADHD) may have a difficult time practicing (or cooperating with) oral hygiene tasks. Some may not have the physical ability to perform effective brushing and flossing without assistance. In these cases, it's important for parents or caregivers to seek out instruction and training that will optimize their children's hygiene and so reduce the chance of dental disease.
Certain medications for chronic conditions can increase mouth dryness, or they're acidic or sweetened with sugar, any of which can increase the child's risk for tooth decay or periodontal (gum) disease. Parents or caregivers should consult with their physicians about these medications or if they could be administered at mealtime to minimize their effect on the mouth.
Finally, there's the direct effect some conditions may have on a child's teeth and gums. Children with severe gag reflexes due to their condition may not be able to tolerate toothpaste or be able to spit it out completely. Other conditions can give rise to dental defects such as enamel hypoplasia in which not enough enamel develops to adequately protect the teeth.  Such defects call for special dental attention and closer monitoring of teeth and gum health.
The key is to see us and the other healthcare providers for your child's chronic condition as part of an overall team. Sharing information and regarding both dental and general care as part of a comprehensive strategy will help to prevent dental problems from developing and improve their health.
If you would like more information on dental care for children with chronic conditions, please contact us or schedule an appointment for a consultation. You can also learn more about this topic by reading the Dear Doctor magazine article "Managing Tooth Decay in Children with Chronic Diseases."
By Patrick H. Collins, PC
September 08, 2015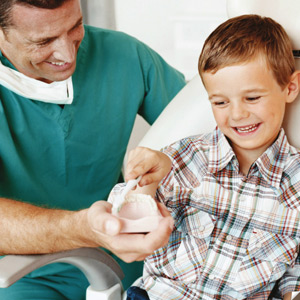 There's really no secret to keeping your child's teeth healthy — good, daily hygiene habits, regular dental visits and early treatment for emerging problems. It's a lot easier for those things to happen if your child feels comfortable with dental care and visiting the dentist. Sadly, that's not always the case: many children develop an unhealthy fear of the dentist because the initial relationship may have been mishandled.
Here, then, are 3 tips that will help you foster a healthy relationship between your child and their dentist.
Visit the dentist before their first birthday. From a health standpoint, dental visits should begin soon after your child's first teeth emerge (erupt) in the mouth. Visiting the dentist by their first birthday also improves the chances they'll develop a sufficient level of comfort with the visits, more so than if you waited a year or two longer.
Choose your dentist with your child's sense of security and comfort in mind. When you're looking for a dentist to care for your child, think of it as looking for a "new member of the family." It's important to find an office environment that's kid-friendly and staff members that work well with children. Some dentists specialize in pediatric dentistry and many general dentists have additional training in working with children. The key is a dental team that has a good, trust-building rapport with children.
Set an example, both in the home and at the dentist. Children learn quite a bit watching what their caregivers say and how they react in potentially stressful situations. If dental care is important to you personally, it's more likely to become important to your child. And when you visit the dentist with your child, be sure to project calm and a sense that it's routine — if you display tenseness or nervousness your child may take that as a sign that visiting the dentist is something to fear.
You want your child to learn that the dentist is their friend who's there to help them. That lesson should begin early with the right dental team — and by making dental care a priority in your own life.
If you would like more information on dental care for your child, please contact us or schedule an appointment for a consultation. You can also learn more about this topic by reading the Dear Doctor magazine article "Taking the Stress out of Dentistry for Kids."