My Blog
Posts for: April, 2016
By Patrick H. Collins, DDS
April 29, 2016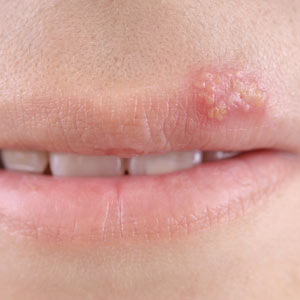 While it's common for most of us to get an occasional cold sore, you may suffer from regular breakouts. If so, you know firsthand how uncomfortable and embarrassing they can be and seeming to erupt at the most inopportune moments.
What you're experiencing is the result of a virus — the Herpes Simplex virus (HSV) Type I to be exact. Don't let the name disturb you — although similar it's different from the sexually transmitted virus known as HSV Type II. As with any virus the body responds by making and distributing antibodies to stop its attack. That's typically the end of it but for some people the virus appears to be able to hide in the nerve roots of the mouth and elude the effects of the antibodies.
The sores associated with the virus tend to break out when a person is under stress, experiences trauma to the lip or even from sun exposure. The breakout begins with a slight itching or burning around the mouth that typically advances to more severe itching, swelling, redness and blistering. Eventually the sores will scab over and heal as the outbreak winds down. The period from breakout to final healing (during which you'll also be contagious to others) usually lasts seven to ten days.
Although normally not a danger to health, cold sore outbreaks can be painful and irritating. In the past, most patients simply had to let the outbreak run its course with topical ointments to ease discomfort. In the last two decades, however, new anti-viral medication has proven effective in preventing the outbreaks in the first place or at least lessening their duration.
If you have regular bouts of cold sores prescription drugs like acyclovir or valcyclovir taken orally can help suppress the occurrences altogether, and have few side effects. Topical agents can also be used as a supplement to the drugs to help ease itching and other pain symptoms.
It's important, though, that you undergo a complete oral examination to rule out more serious conditions associated with mouth sores. If we find that your problem is recurring cold sores, these new treatments could help you escape the cycle of discomfort.
If you would like more information on the treatment of chronic cold sore outbreaks, please contact us or schedule an appointment for a consultation. You can also learn more about this topic by reading the Dear Doctor magazine article "Cold Sores."
By Patrick H. Collins, DDS
April 14, 2016
We've all had physical ailments that were more irritating than serious. The problem of skin cracking at the corners of the mouth fits into that category.
Both dentists and dermatologists encounter this condition often and have a name for it: perleche, derived from the French word lecher, meaning "to lick." The term arises from patients' tendency to excessively lick the broken skin to soothe the itching or burning.
Perleche most often arises from certain mouth conditions, although systemic problems like anemia or diabetes may also cause it. Children or younger adults, especially those with orthodontic braces or a tendency to drool as they sleep, often develop perleche; older adults with wrinkling around the mouth are also susceptible. Mouth dryness caused by reduced saliva flow may also irritate the skin and cause discomfort.
As the skin becomes irritated, the person may begin to lick the corners of the mouth to soothe them. This sets up conditions for an infection, most often caused by yeast known as candida albicans. The infection may become more acute and begin to affect the entire inside of the mouth or throat.
If you've developed perleche, our primary treatment goal is to reduce any infection with the aid of oral or topical antifungal drugs. One drug, Nystatin, is often taken as a lozenge that dissolves in the mouth and works its way from there through the rest of the body. You can also apply antifungal ointments several times a day to the corners of the mouth, often in combination with steroid ointments that reduce redness and swelling. You can also apply antifungal zinc oxide paste to the cracked skin, which also serves as a barrier between the skin and outer contaminants.
To reduce the chance of future outbreaks, we may recommend you rinse with Chlorhexidine, as well as replace missing teeth or refit loose dentures — these too are contributing factors to erupting yeast infections. You might also need to undergo dermatologic treatment for wrinkles if they've proven to be a factor in developing perleche.
Although not a major problem, perleche can be exceedingly uncomfortable and embarrassing. Thanks to a number of treatment options, you don't have to put up with that discomfort for long.
If you would like more information on perleche (angular cheilitis), please contact us or schedule an appointment for a consultation. You can also learn more about this topic by reading the Dear Doctor magazine article "Cracked Corners of the Mouth."