My Blog
Posts for: January, 2017
By Patrick H. Collins, DDS
January 18, 2017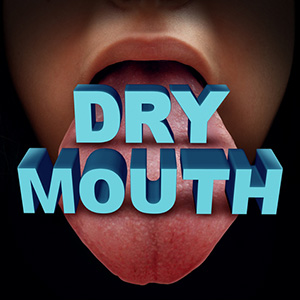 As your mother used to say, "A moist mouth is a healthy mouth." Well, maybe she didn't — but it's still true. Without the constant flow of saliva, your teeth and gums would be less healthy.
That's because among its many functions, saliva helps keep the mouth from becoming too acidic. Just after eating, your mouth's neutral pH level tips to the acidic side of the scale. Acid is enamel's number one enemy, and it takes little time for it to begin dissolving mineral content. But in thirty minutes to an hour, saliva neutralizes the acid; it also helps restore some of the enamel's minerals.
Without adequate saliva flow, acid quickly gets the upper hand. In time, this can greatly increase your risk for dental disease. And for many people, inadequate saliva — dry mouth — is a chronic problem.
There are a number of reasons why. Salivary glands may not produce as much in our later years. In addition, as we age, we may begin taking more medications, some of which can cause dry mouth. Treatments for certain kinds of systemic diseases, particularly cancer, can also inhibit saliva or even damage salivary glands.
If you feel your mouth is continuously dry, make an appointment to find out the cause, which will determine the best course of action to alleviate it. If it's related to your medication, we'll see if there's an alternative. If not, you may need to drink more water when you take your medication and more throughout the day.
There are other things you can do as well. Reduce your intake of acidic foods or caffeinated beverages. Run a cool-air humidifier at night to keep your mouth and nose membranes moist. And you can also try saliva stimulants available by prescription or even over the counter. Chewing gum with xylitol (an alcohol-based sugar) has also been shown to stimulate saliva flow.
Above all, be diligent about daily brushing and flossing and regular dental cleanings and checkups. Keeping a watchful eye will help ensure dental disease doesn't take advantage of your dry mouth.
If you would like more information on managing dry mouth, please contact us or schedule an appointment for a consultation. You can also learn more about this topic by reading the Dear Doctor magazine article "Dry Mouth."
By Patrick H. Collins, DDS
January 03, 2017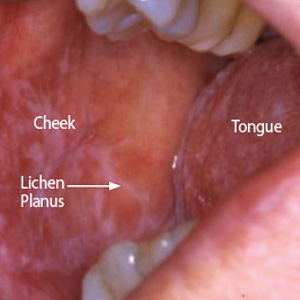 When you visit us for your regular checkup we're examining more than your teeth and gums. We're also checking to see if you're having problems with soft tissues in and around your mouth.
Besides canker sores, rashes or other types of abnormalities, our exam may uncover strange looking lesions known as lichen planus on the inside of the mouth. These purple-tinted bumps or rash-like discolorations are named for their similarity in appearance to lichen fungi found on trees or rocks. Although these mouth sores may look odd, they're fairly rare and usually do not cause concern.
Most people don't even know they have lichen planus until it's discovered during a dental exam. If there are any symptoms, it's usually a feeling of roughness, tenderness or itching. They may increase your sensitivity to spicy or acidic foods, but rarely cause extreme pain. If they're located around the gums, you may also notice a little soreness after brushing or eating.
To confirm it is lichen planus, we need to perform a biopsy. During this procedure, we remove a tiny amount of the affected tissue and have it examined microscopically. We do this not only to determine the correct diagnosis, but also to rule out more serious problems like pre-cancerous lesions or oral cancer.
Thankfully, though, this worst case scenario is quite rare, and although the condition can't be cured, there are some things you can do to keep any discomfort to a minimum. If the lesions are irritating, we recommend using a soft toothbrush with gentle brushing action. You may also want to limit or avoid spicy or acidic foods like citrus, tomatoes, hot peppers and caffeinated drinks. Managing stress can also help. For some extreme conditions, we can prescribe a topical steroid to help relieve discomfort.
If you notice any of the above symptoms, be sure to contact us or point it out at your next appointment. Once we know what we're dealing with, we can take steps to treat you.
If you would like more information on different types of mouth sores, please contact us or schedule an appointment for a consultation. You can also learn more about this topic by reading the Dear Doctor magazine article "Lichen Planus."