My Blog
Posts for: May, 2017
By Patrick H. Collins, DDS
May 26, 2017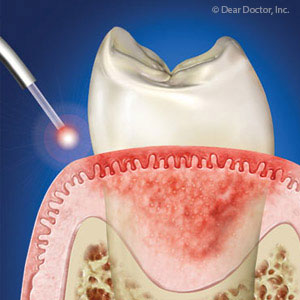 There are a variety of methods for treating periodontal (gum) disease depending on its severity — from routine office cleanings to periodontal surgery. But the goal behind all of them remains the same: remove bacterial plaque and calculus (tartar), the root cause for gum disease, from all tooth and gum surfaces.
The traditional method for doing this is called scaling in which we use special hand instruments (scalers) to mechanically remove plaque and calculus. Scaling and a similar procedure called root planing (the root surfaces are "planed" smooth of plaque to aid tissue reattachment) require quite a bit of skill and experience. They're also time-consuming: full treatment can take several sessions, depending on how extensive the infection has spread.
In recent years, we've also seen a new method emerge for removing plaque: lasers. Commonly used in other aspects of healthcare, lasers utilize a focused beam of light to destroy and remove diseased or unhealthy tissue while, according to studies and firsthand accounts, minimizing healthy tissue destruction to a better degree than traditional techniques. Procedure and healing times are likewise reduced.
Because of these beneficial characteristics, we are seeing their use in gum disease treatment, especially for removing diseased and inflamed tissues below the gum line and decreasing sub-gingival ("below the gums") bacteria.
Dentists who have used lasers in this way do report less tissue damage, bleeding and post-treatment discomfort than traditional treatments. But because research is just beginning, there's not enough evidence to say laser treatment is preferably better than conventional treatment for gum disease.
At this point, lasers can be an effective addition to conventional gum disease treatment for certain people, especially those in the early stages of the disease. As we continue to study this technology, though, the day may come when lasers are the preferred way to stop gum disease from ruining your dental health.
If you would like more information on treating gum disease, please contact us or schedule an appointment for a consultation. You can also learn more about this topic by reading the Dear Doctor magazine article "Lasers Versus Traditional Cleanings for Treating Gum Disease."
By Patrick H. Collins, DDS
May 11, 2017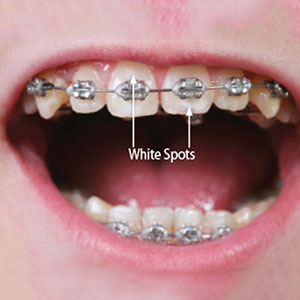 After months of wearing braces it's time for the big reveal: your new and improved smile! Your once crooked teeth are now straight and uniform.
But a look in the mirror at your straighter teeth might still reveal something out of place: small chalky-white spots dotting the enamel. These are most likely white spot lesions (WSLs), points on the enamel that have incurred mineral loss. It happens because mouth acid shielded by your braces contacted the teeth at those points for too long.
Most mouth acid is the waste product of bacteria that thrive in dental plaque, a thin film of food particles that can build up on tooth surfaces. High levels of acid are a definite sign that plaque hasn't been removed effectively through brushing and flossing.
But normal hygiene can be difficult while wearing braces: it's not easy to maneuver around brackets and wires to reach every area of tooth surface. Specialized tooth brushes can help, as well as floss threaders that help maneuver floss more easily through the wires. A water irrigator that uses pulsating water to remove plaque between teeth is another option.
However, if in spite of stepped-up hygiene efforts WSLs still develop, we can treat them when we've removed your braces. One way is to help re-mineralize the affected tooth surfaces through over-the-counter or prescription fluoride pastes or gels. It's also possible re-mineralization will occur naturally without external help.
While your teeth are sound, their appearance might be diminished by WSLs. We can improve this by injecting a liquid tooth-colored resin below the enamel surface. After hardening with a curing light, the spot will appear less opaque and more like a normal translucent tooth surface. In extreme cases we may need to consider porcelain veneers to cosmetically improve the tooth appearance.
In the meantime while wearing braces, practice thorough dental hygiene and keep up your regular cleaning visits with your general dentist. If you do notice any unusual white spots around your braces, be sure to see your dentist or orthodontist as soon as possible.
If you would like more information on dental care during orthodontic treatment, please contact us or schedule an appointment for a consultation. You can also learn more about this topic by reading the Dear Doctor magazine article "White Spots on Teeth during Orthodontic Treatment."