My Blog
Posts for: March, 2018
By Patrick H. Collins, DDS
March 16, 2018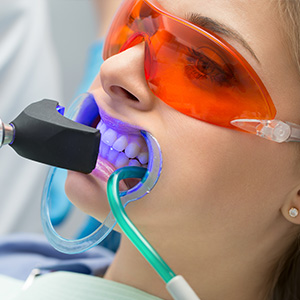 If you're ready to put the "pizzazz" back into your smile, your dentist may be able to help. It's possible your dull, dingy smile could be transformed with teeth whitening.
Teeth whitening or bleaching is a technique that applies a solution with a bleaching agent (usually up to 35% hydrogen peroxide in an office setting) to the teeth to whiten them. Although there are Do-It-Yourself home whitening kits you can use, there are a few good reasons why you should first consider a whitening procedure in a dental office setting.
To begin with, you should first have your teeth examined by a dentist to determine why they're discolored. Certain foods and beverages we consume or tobacco habits are the usual culprits causing stains on the enamel, the outermost tooth layer. These are the kinds of stains targeted by most whitening solutions.
But the interior of a tooth can also become discolored for reasons like trauma, past dental work or tetracycline use at an early age. If your staining is internal (intrinsic) rather than external (extrinsic) reducing that discoloration will require an invasive procedure only a dentist can perform—a home kit won't be able to do the job.
Another reason for having your teeth whitened by your dentist (even extrinsic staining) involves your time and the degree of brightness you'd like. Because dentists use stronger bleaching solutions (home kits usually use a weaker solution of 10% carbamide peroxide) it takes fewer sessions than home kits to achieve results—and they may last longer. In addition, dentists have more control over the level of brightness to match your expectations of a more subdued, natural look or a dazzling "Hollywood" smile.
A dentist can also help you navigate special circumstances like matching and managing natural teeth whiteness with dental restorations (which don't bleach) or special whitening situations like a single discolored tooth.
Even if you eventually decide to go the home kit route, consulting with a dentist first can still prove helpful. You'll get expert advice on products, tips on how to apply them and how to prolong the whitening effect. Whichever way you go, home kit or dentist, you can gain a brighter, more confident smile with teeth whitening.
If you would like more information on teeth whitening, please contact us or schedule an appointment for a consultation. You can also learn more about this topic by reading the Dear Doctor magazine article "Important Teeth Whitening Questions…Answered!"
By Patrick H. Collins, DDS
March 01, 2018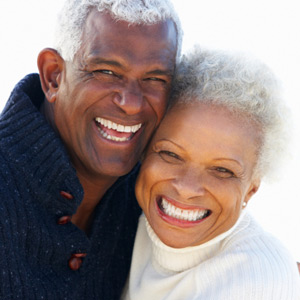 Installing dental implants involves more than the mechanics of placing them into the jawbone. Ultimate success — a natural and beautiful smile — requires painstaking attention to detail and artistry.
Here are a few of the factors we must consider to achieve a smile with dental implants you'll be proud to display.
The amount of available bone. For the permanent crown to appear natural, it's crucial to position the implant precisely. To achieve this precision requires an adequate amount of bone to be present. Unfortunately, bone loss is quite common after tooth loss; to minimize this we place bone grafts in the empty socket if at all possible after extraction to encourage bone growth. It's also possible in some cases to perform bone grafting surgery before implants to build up bone volume.
Your genetic gum tissue type. There are basically two types of gum tissue people are born with: thin or thick. Thin tissues are more subject to wear, difficult to work with during surgery and can make it difficult to hide the metal components of an implant. Thicker tissues are easier to work with, but can have a tendency to overgrow.
Achieving a natural "emergence profile." To look natural, the implant crown must appear to seamlessly emerge from the surrounding gum tissue. To achieve this, we must carefully plan and place the implant in the precise location in the bone, taking into account the implant shape and how far it should be placed within the bone to match the position and height of adjacent teeth and gum tissues.
Blending color shades with adjacent natural teeth. When it comes to color, everyone has subtle differences in tooth shades and hues. In fact, there are slight color variations within individual teeth, from the root to the tip of the crown. To make sure the implant blends in with adjacent teeth, it's important to match the color incorporated into the porcelain crown with the natural crowns beside them.
These and other factors require both technical expertise and a sense of artistry. Carefully considering all of them will help ensure your dental implants result in the smile you want.
If you would like more information on smile transformations with dental implants, please contact us or schedule an appointment for a consultation. You can also learn more about this topic by reading the Dear Doctor magazine article "Matching Teeth & Implants."