My Blog
Posts for tag: dental injuries
By Dr. Patrick H. Collins
October 31, 2012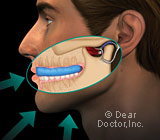 Nearly everyone who has ever played a sport, or had a child participate in one, has had that panic-filled moment when they witness an injury. And when you consider that there are more than 22,000 dental injuries each year in children younger than 18 years of age, you see there is fact to backup this concern. This is just one reason why we strongly encourage all of our patients who are involved in activities such as football, soccer, hockey, wrestling, lacrosse, skateboarding, field hockey and more to wear one of our custom-fitted professional mouthguards. It is especially true for basketball and baseball, which are responsible for the largest number of dental injuries.
The following are some key issues to help you understand the importance and advantages mouthguards offer.
Is there a way to determine who is at the highest risk for sports injuries?
Yes there are several. Age, gender, dental anatomy, and the type of sports being played are the four categories used to measure the risks for dental injuries. Young male teens still top the list of most likely to be injured; however, the gap is closing with more females getting involved in sports. Learn which sports or exercise activities made the American Dental Association's list of recommendations for using a custom mouthguard, when you continue reading "Athletic Mouthguards."
What's the difference between a "boil and bite" mouthguard and a professionally made mouthguard?
We are often asked this very important question. While some over-the-counter (OTC) mouthguards provide what is advertised as a "custom-fit" to your teeth, it is nowhere near the fit — and thus protection — you receive from our mouthguards that are crafted from precise molds of your teeth. Additionally, because all aspects of our mouthguards are tailored to each specific mouth, they provide much more protection and comfort. This important fact can enhance performance as the athlete can literally breathe easier while wearing one of our mouthguards.
What can I do if I witness a dental injury?
The first important fact to know is that you do not have to be a dental or healthcare professional to assist. However, before jumping in to help out, consult Dear Doctor's Field-Side Guide to Dental Injuries. This pocket-sized, quick-reference guide details what you should do at the scene of a dental injury based on the type of injury. But best of all, it is available to you free of charge from Dear Doctor.
Want to know more?
Contact us today to discuss your questions or to schedule an appointment.
By Dr. Patrick H. Collins
April 22, 2012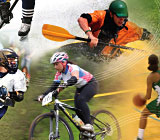 A recent study revealed that on average there are 22,000 dental injuries in children under the age of 18. This alarming reality makes it clear that parents, caregivers, and coaches need to understand the risks for dental injuries so that they are best equipped to prevent them...or at least be prepared to manage one should it occur. The four most common categories for measuring risks associated with sports injuries are:
Age: Age is an important factor when accessing risk. Sports-related dental injuries tend to spike during the teenage years. Recent research shows that children under the age of 13 tend to not be injured as often.
Gender: Gender is probably the second most influential factor. The facts are that males top the list for experiencing dental injuries during sports or vigorous activities. However, more and more females are playing highly competitive and contact sports or activities; thus, their risk of injury is increasing.
Shape and position of your teeth: Both the condition and positions of the teeth affect their risk of injury. More prominent or "buck" teeth are considered a higher risk for injury than teeth in a more normal position. Furthermore, 80% of all dental injuries involve the upper front teeth.
Sports type: This last category is the one most often asked about, as parents, caregivers and athletes want to know which sports or activities have the highest risks for dental injuries. And while baseball and basketball top the list, the American Dental Association (ADA) has put together a comprehensive list of sports and activities. To review this list, read the Dear Doctor article, "Athletic Mouthguards." The ADA also urges athletes to wear professionally-fitted mouthguards to protect against dental and facial injuries.
Knowing the above categories can help you assess your risk for a dental injury while playing in a sport or recreational activity. To learn more about sports-related dental injuries, read, "An Introduction To Sports Injuries & Dentistry." Or if you have a traumatized, damaged, chipped or missing tooth from a sports or any other type of injury, contact us to discuss your situation or to schedule an appointment.