My Blog
Posts for tag: root canal treatment
By Patrick H. Collins, DDS
February 19, 2019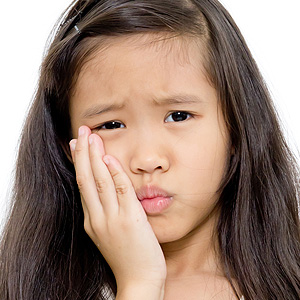 Primary (baby) teeth don't last long. But despite their short life span, they do a number of important things, like enabling a child to eat solid food. But perhaps their most important long-term function is "paving" the way for their permanent replacements.
If one is lost prematurely, though, the permanent tooth might not come in properly aligned. That's why if a primary tooth is in danger of loss due to decay or injury, we'll do our best to save it.
But that could get a little tricky if the infected or damaged part of the tooth is the innermost pulp. If it were an adult tooth, the best course might be a root canal treatment: access the pulp, clear out the diseased tissue, and then fill the space with a special filling. But with a primary tooth (or a young permanent tooth for that matter) that may not be advisable.
That's because the pulp plays a more important role in a child's tooth than an adult's. Its nerves and other tissues stimulate dentin growth; a full root canal could disrupt that growth and weaken the tooth in the long run.
With a child's tooth, we proceed carefully depending on how infected or damaged the pulp might be. If it's only slightly exposed or not at all, we try then to remove as much decayed tooth material outside the pulp as necessary, then apply antibacterial agents or dentin growth stimulators.
If we do have pulp exposure, we'll try to remove only as much of the affected pulp as necessary through a procedure called a pulpotomy. This technique will only be used if the remaining pulp looks healthy or restorable to health.
If not, we may need to perform a pulpectomy to remove the entire pulp. Most like a typical root canal, it's a last resort: without the pulp, dentin growth could be stunted and the tooth won't develop as healthy as it should.
Of course, the best approach is to prevent teeth from developing such problems in the first place. So, be sure to practice effective daily hygiene with your child and keep up regular dental visits beginning at age one.
If you would like more information on treating decayed primary teeth, please contact us or schedule an appointment for a consultation. You can also learn more about this topic by reading the Dear Doctor magazine article "Root Canal Treatment for Children's Teeth."
By Patrick H. Collins, DDS
January 30, 2018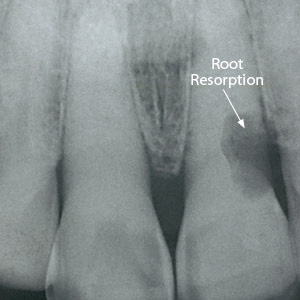 Along with the gums, your teeth's roots help stabilize them. Without them your teeth couldn't handle the normal biting forces you encounter every day. That's why a rare condition called root resorption must be treated promptly: this gradual breakdown and dissolving of root structure could eventually cause you to lose your tooth.
Resorption is normal in primary ("baby") teeth giving way for permanent teeth or sometimes during orthodontic treatment. But the form of resorption we're referring to in permanent teeth isn't normal, and is highly destructive.
The condition begins in most cases outside the tooth and works its way in, usually at the gum line around the cervical or "neck-like" region of the tooth (hence the term external cervical resorption or ECR). ECR produces pink spots on the teeth in its early stages: these are spots of weakened enamel filled with pink-colored cells that cause the actual damage. The cells create cavity-like areas that can continue to enlarge.
We don't fully understand what causes ECR, but there seems to be links with excessive force during orthodontics, tooth trauma (especially to the gum ligaments), tooth grinding habits or internal bleaching procedures. However, most people with these problems don't develop ECR, so the exact mechanism remains a bit of a mystery.
The good news, though, is that we can treat ECR effectively, provided we discover it before it inflicts too much damage. That's why regular dental visits are important, coupled with your own observation of anything out of the ordinary and immediate dental follow-up.
If the affected area is relatively small, we may be able to remove the cells causing the damage and repair the area with a tooth-colored filling. If it appears the pulp (the tooth's innermost layer) is involved, we may need to perform a root canal treatment to remove infected tissue and fill the empty space with a special filling. You may also need other procedures to reduce the chances of gum recession around the affected tooth.
Proactive dental care is your best insurance against losing a tooth to root resorption. So keep an eye on your teeth and see your dentist regularly to keep your teeth and gums healthy.
If you would like more information on the signs and treatments for root resorption, please contact us or schedule an appointment for a consultation. You can also learn more about this topic by reading the Dear Doctor magazine article "Root Resorption: An Unusual Phenomenon."
By Patrick H. Collins, DDS
April 11, 2017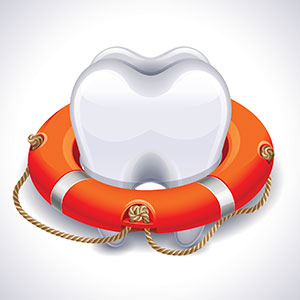 It's no exaggeration — dental implants have revolutionized teeth replacement. Life-like and durable, implants are the closest thing in design and function to a natural tooth.
In fact, there's only one thing better than a dental implant — a real tooth. For function and long-term oral health, you can't beat what nature provided you in the first place. So before you finally decide to remove and replace that problem tooth, consider these other options for saving it.
Root canal therapy. Tooth decay can do more than cause cavities — it can work its way into the pulp, the innermost layer of a tooth. If it isn't stopped here, it could continue on to the roots and put the tooth in real danger of loss. A root canal treatment removes the infection from the pulp and root canals and replaces the space with a filling. A life-like crown is then bonded or cemented to the tooth to protect it from further infection.
Aggressive treatment for periodontal (gum) disease. This other dental disease is just as damaging as tooth decay. Caused by bacterial plaque, the gums around a tooth become infected and inflamed. As it moves deeper into the tissues and inflammation progresses, it can affect supporting bone causing it to dissolve. To prevent this potential bone loss, it's important to seek out and remove hidden pockets of plaque. This may require surgery to access the roots for plaque and calculus (tartar) removal, but it's well worth it to preserve the tooth.
Bone grafting. As mentioned before, gum disease can ultimately lead to bone loss. But even when bone loss has occurred (a substantial threat to a tooth's survival) we may be able to reverse it with bone grafting techniques. During this procedure we insert grafting material at the loss site along with substances that stimulate growth. The graft serves as a scaffold for new bone cells to grow upon. Over time the bone volume increases and helps stabilize a weak tooth.
Of course, your best option is to avoid dental disease in the first place with daily brushing and flossing and regular dental visits for cleanings and checkups. That and treating dental disease in its earliest stages will help ensure you'll have the best teeth possible — your own.
If you would like more information on options for treating diseased teeth, please contact us or schedule an appointment for a consultation. You can also learn more about this topic by reading the Dear Doctor magazine article "Save a Tooth or Get an Implant?"