My Blog
Posts for tag: veneers
By Patrick H. Collins, PC
June 02, 2015
Porcelain veneers represent one of the best values in cosmetic dentistry, capable of radically changing a person's smile with little tooth surface preparation. Still, the small amount of tooth enamel usually removed to accommodate them will permanently alter the affected teeth, to the point they will require a veneer or other restoration from then on.
The traditional veneer has remarkable versatility for solving a number of minor cosmetic problems, correcting mild tooth positioning problems and replacing lost or damaged enamel. But to avoid an unnatural bulky appearance, a portion of the tooth enamel must be permanently removed to accommodate them.
In recent years, though, a new concept known as "prepless veneers" has emerged in the field of cosmetic dentistry. Understandably, this new, "drill-free" veneer application has caused a lot of debate among dentists and patients alike, with concerns of bulky, overly-contoured teeth resulting from the technique. But the concept is growing as many well-regarded dentists have incorporated both minimal prep and prepless veneers into their service offerings.
The prepless veneer offers a cosmetic solution that doesn't alter the tooth permanently. Using techniques such as feathering, which tapers and blends the veneer seamlessly with the tooth at the gum line, we can avoid an unnatural appearance while offering patients a much less invasive outcome.
The main disadvantage of prepless veneers at this time is that they're not appropriate in every case. In fact, careful patient selection is a key to a successful outcome. For example, relatively large teeth or teeth positioned too far forward don't work well with an added layer of thickness.
If, on the other hand, you have small, short or worn teeth, or teeth overshadowed by your lips — just to name a few likely scenarios — then you may benefit immensely from prepless veneers without permanent alteration to your teeth. A detailed examination is your first step to finding out if this new technique could provide you with a less-invasive smile makeover.
If you would like more information on drill-free porcelain veneers, please contact us or schedule an appointment for a consultation. You can also learn more about this topic by reading the Dear Doctor magazine article "Porcelain Veneers without the Drill."
By Dr. Patrick H. Collins
January 15, 2013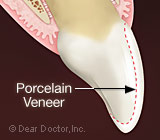 You may have heard the term "veneer" with reference to woodworking, where it means a thin layer of attractive wood that covers and enhances the surface of a piece of furniture. Exactly the same principle applies to porcelain veneers used in dentistry: A thin layer of ceramic material is used to cover parts of a tooth in order to improve its structure and appearance.
Porcelain is a non-metallic ceramic material that is fired in an oven at a high temperature to make it hard and durable. Dental porcelain veneers are thin layers of ceramic that can be applied to the outside of the tooth so that the end result mimics the natural color and translucency of tooth enamel. The underlying tooth structure has to be prepared by removing a small amount of the enamel, about 1 mm, which the veneer replaces. The veneer is then bonded to the prepared surface using a light-sensitive resin.
In woodworking, a veneer may be used to match the grain between the left and right sides of a piece of furniture, creating a beautiful effect on a curve, or simply to bring the appearance of expensive wood to a backing that is less expensive.
Just as a wood veneer improves the appearance of a dresser or table, porcelain laminate veneers may be used to improve teeth that have a number of cosmetic and functional problems. These include staining that cannot be removed by tooth whitening, teeth that are too small, misshapen, chipped or spaced too far apart. After an assessment of your teeth and your smile, we can create a mock-up using temporary tooth-colored materials so you can decide whether the suggested changes will work for you, or you can make suggestions for further improvements.
Porcelain laminate veneers may not be the best solution for you if your teeth are severely stained or damaged. In cases where a large proportion of the original tooth must be replaced, porcelain crowns may be the best solution. The crown is the part of the tooth that is visible above the gum line, and it can be covered with a porcelain crown that looks exactly like a tooth in shape and color. After studying your needs, together we can decide on the most satisfactory method to restore your most attractive smile.
Contact us today to schedule an appointment to discuss your questions about porcelain veneers. You can also learn more by reading the Dear Doctor magazine article "Porcelain Crowns and Veneers."
By Dr. Patrick H. Collins
October 22, 2012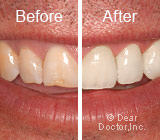 If you are unhappy with your smile or the way some of your teeth appear, porcelain veneers may be the solution to your concerns. They are a fast, effective, and well-proven method for cosmetically enhancing your smile — and a secret that Hollywood and other celebrities have been taking advantage of for years. To help you determine if they are right for you, here are some questions we typically receive.
What is a veneer?
A veneer is a custom made thin "shell" or thin layer of a dental ceramic material (usually porcelain) used to replace the front, visible surface of the tooth. They are artistically and hand-crafted using a precise model of your mouth and teeth to achieve a natural look.
What can they do for me?
Veneers are the optimal choice for correcting small to medium gaps between teeth; slight rotations of teeth causing them to be misaligned; oddly shaped, chipped, or "short" teeth; as well as teeth that are discolored or unevenly colored. However, veneers have their limitations, too. They cannot correct bite issues, poor tooth position, or profile issues. It is also important to note that if you have this procedure, we will typically need to remove a small amount of enamel from your teeth to accommodate the veneer and produce dramatic improvements to your smile.
How long will they last?
While they can vary widely from person to person, porcelain veneers usually last from 7 to 20 years. Factors that impact this timeline include your oral hygiene habits, diet, lifestyle, as well as how well you protect your veneers during sleep and while playing sports.
Have more questions?
Contact us today to discuss your questions or to schedule an appointment. You can also learn more about veneers by reading the Dear Doctor article, "Smile Design Enhanced With Porcelain Veneers."